After 19 years representing his country, para hockey veteran Greg Westlake is retiring after Beijing 2022, but his passion and advocacy for the sport will live on
With an intensive training schedule and the sole focus of achieving their
goal to take home a gold medal, the little moments athletes experience on
their road to the Paralympics can easily blur together.
But for Greg Westlake, who is participating in his fifth Paralympic Winter
Games, he's taking the opportunity to soak in every moment. That's because
the 19-year veteran of Canada's National Para Hockey Team has announced
that he will be retiring at the end of Beijing 2022.
"I'm really happy that I came out ahead of it and said that this was going
to be my last one," Westlake says. "It's kind of freed me up and allowed me
to really just enjoy all the little things."
The realization that he is nearing the end of his career really sunk in a
few days before Canada's Paralympic Hockey Team left for Beijing. After the
team's last practice in Calgary, the gravity of the moment hit the
35-year-old while he was in the dressing room.
"It was my last ice time in Canada," he says. "The practice ended, and I
was just sitting there like 'I don't know when I'm going to play hockey in
Canada again.'"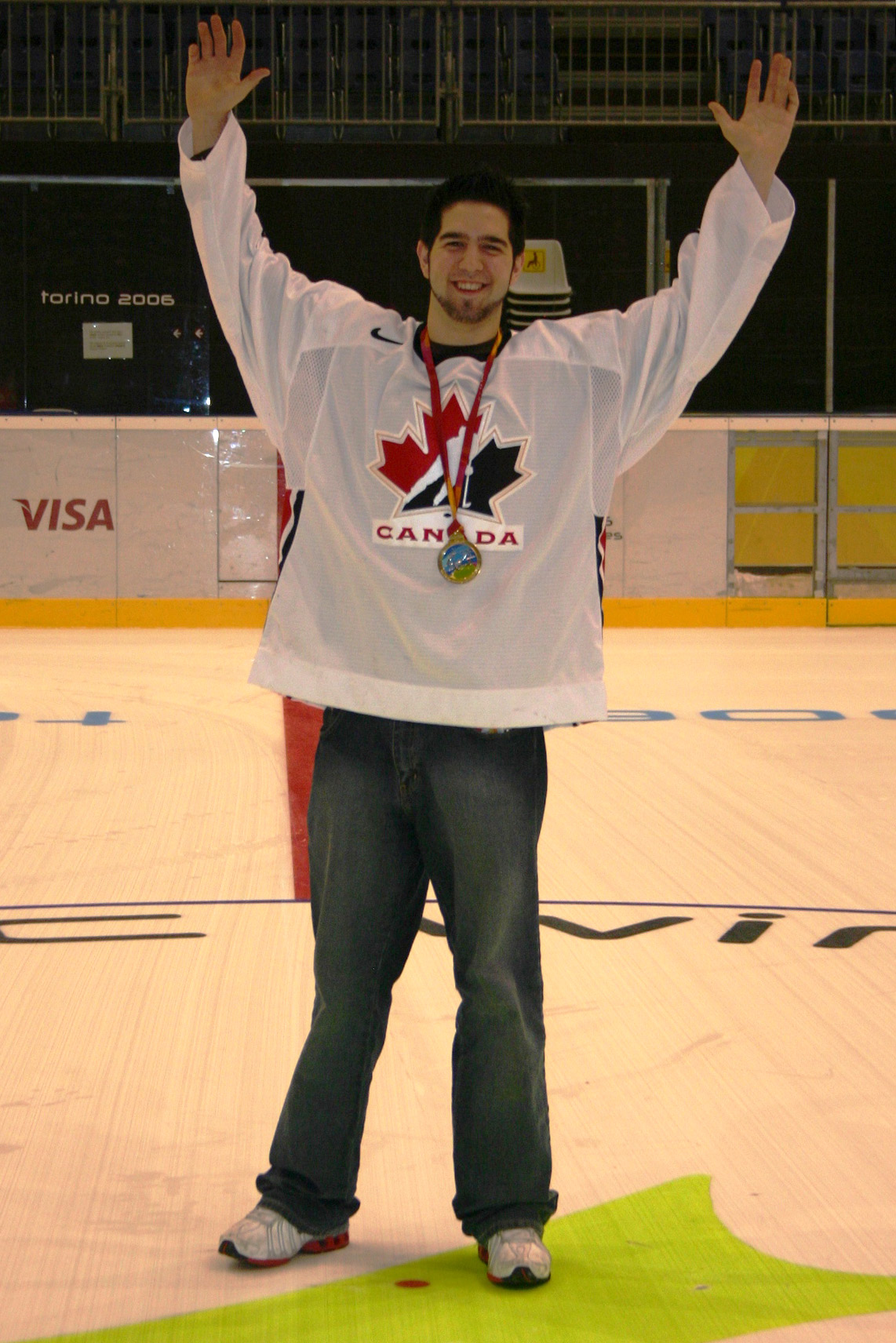 Beijing 2022 ties a bow on an accomplished career with Team Canada.
Westlake joined the para hockey program in 2003 and has played as a
goaltender, a defenceman and a forward. He won gold at his first Paralympic
Games in 2006 and has since won two more Paralympic medals: bronze in 2014
and silver in 2018.
At the beginning of the 2010-11 season, Westlake was named captain and
served in that role for eight years. In IPC World Para Hockey Championship
action, he has won three gold medals (2008, 2013, 2017), two silver (2015, 2019)
and two bronze (2009, 2012).
On top of those accolades, Westlake was honoured with leading Team Canada
into the Opening Ceremony of Beijing 2022 as one of the country's flag
bearers. His eyes are set on winning gold in his final competition, but he
also hopes to experience the Games from the perspective of his younger
teammates.
"I want to live the Games through some other people's eyes a little bit,
you know, the guys who it's their first time walking into an Opening
Ceremony," he says. "I think, for me, that's really fun and exciting.
Seeing a 19-, 20-year-old kid just like, 'Greg, aren't you excited about
the opening ceremonies?' You see that excitement; it makes you young again.
It makes you feel like it's your first time and that really excites me."
As a member of the national team for almost two decades, the Oakville,
Ont., native has had the opportunity to be teammates with many para hockey
players. As the team evolved, his leadership style also evolved to best
serve his teammates. Looking back, Westlake says he was a boisterous,
energy guy when he first joined the team, but he has a calmer approach now.
He prefers conversations over coffee or being a source of advice.
"Every single team is different," he says. "They're going to have new
dynamics, new wants and needs and things that it takes for that team to be
successful. You got to be a bit of a chameleon, you got to be able to blend
into where you're needed most and do that role to the best of your ability.
I try my best to do that."
For younger players, like Branden Sison and Anton Jacobs-Webb, who looked
up to Westlake as a role model, the ability to be teammates with him is an
exciting opportunity.
"It's pretty surreal, to be honest," says Sison, who was inspired watching
Westlake on TV at the 2010 Paralympics in Vancouver. "You never really
think you'll be seeing a guy on TV and then getting the chance to play with
him on a line or as a D-pairing or whatever. But he's a really, really
amazing player."
As a teenager, Jacobs-Webb met Westlake at the Cruisers Cup in Brampton,
Ont. After playing his games in the junior division, he watched Westlake
compete in the elite division and stuck around after the game to have him
sign a pair of gloves and take a photo together.
"It was kind of a big moment. I was pretty nervous," Jacobs-Webb says. "My
parents were like, 'Yeah, go talk to him' when I didn't really want to. But
I'm really happy I went to talk to him in the end."
"He was a shy kid," Westlake says of Jacobs-Webb. "What I enjoyed about
meeting him was he was a fan of the sport, like he knew who I was."
The teammates have come a long way since then, but the impact Westlake had
on Jacobs-Webb while he dreamed of wearing the Maple Leaf as a kid remains
to this day.
"Of course, we're teammates, we've played together for four years, but
there's still a tiny bit [of me that] can't get over it. It's still Greg. I
watched pretty much all of his YouTube videos," Jacobs-Webb says. "He's got
a big name and it's crazy to play with him."
On the ice, Westlake is known for his competitive spirit and the way he
grinds and battles for pucks. His ability to adapt throughout the years
also stands out to his teammates.
"I compare him to LeBron James; he's well-versed in the sport and he
changes his game play throughout the years to adapt to the new style of
play that we have," Sison says. "It's a very fast style of hockey nowadays.
He's been able to keep up with that throughout the years and change his
style of play. Also going from defence to forward, he's a very versatile
player."
A unique aspect of Canada's Paralympic Hockey Team is the mix of veterans
and rookies—Sison and Jacobs-Webb are among seven players making their
Paralympic debuts in Beijing. With a veteran like Westlake closing the book
on his para hockey career, it symbolizes a passing of the torch to the next
generation.
"I don't want to say goodbye to them just yet because they're that valuable
to us and to the team. But the next generation is coming, and we're looking
pretty strong," Sison says. "I think they'll be very proud of the direction
that [Canada's National Para Hockey Team] is going. I think they're leaving
it in good hands, and they'll be happy with the results that we're going to
bring in the future."
"I think it's a great opportunity for us," Jacobs-Webb adds. "We get a bit
of mentorship, we get to follow their leadership and we get to learn a lot
from them. By the time they're gone, I think we're going to be pretty well
set. We have a good core."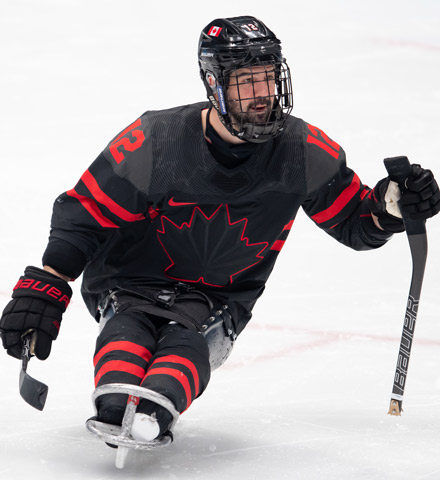 As for Westlake, he has already witnessed many advancements in the sport
since he started playing. One positive change over the past two decades is
the increase of athletes who can fully support themselves by playing para
hockey.
"The biggest difference I see is more and more guys have the ability to
make a living being an athlete representing their country and train
full-time. That was something that in the past, it just wasn't there," he
says. "When we can get to the point where every single guy on the team,
this is what they do, that will be great."
Another goal for Westlake is for para hockey to gain more exposure and
garner more fans to continue to push the sport forward.
"I can only speak from my experience; I can't speak for everyone. But as a
kid growing up with two artificial legs, I never saw anybody that looked
like me on TV. I never saw anybody in a prominent hockey role that looked
like me," Westlake says. "It was hard for me to have these goals and
ambitions and dreams in hockey because I just didn't think it was possible.
"When you look at 10 to 15 years down the road, I see more games on TV for
us, not just one a year. I see way more advocacy, just more
representation."
Right now, Westlake is focused on finishing his career on a golden note in
Beijing. After the Paralympics are done and his playing career is complete,
he hopes to stay involved in the hockey world.
"I don't know exactly what that is yet, but I love player development. I
love scouting. I love the management side," he says. "As it pertains to
this program—anything, anytime. It's a yes for me all day."
His time wearing the Maple Leaf on his sweater may be complete, but his
legacy in para hockey and his passion for the sport will live on.
"I just love the game. I love the team. It's been my favourite thing since
I was three years old and I get emotional talking about it," he says. "I
hope people know that in the times when it wasn't the biggest sport in the
world, I was there trying to do my best to promote it and trying to leave
it in a better place than I found it.
"I just have a lot of love for the program. And I hope people know that."